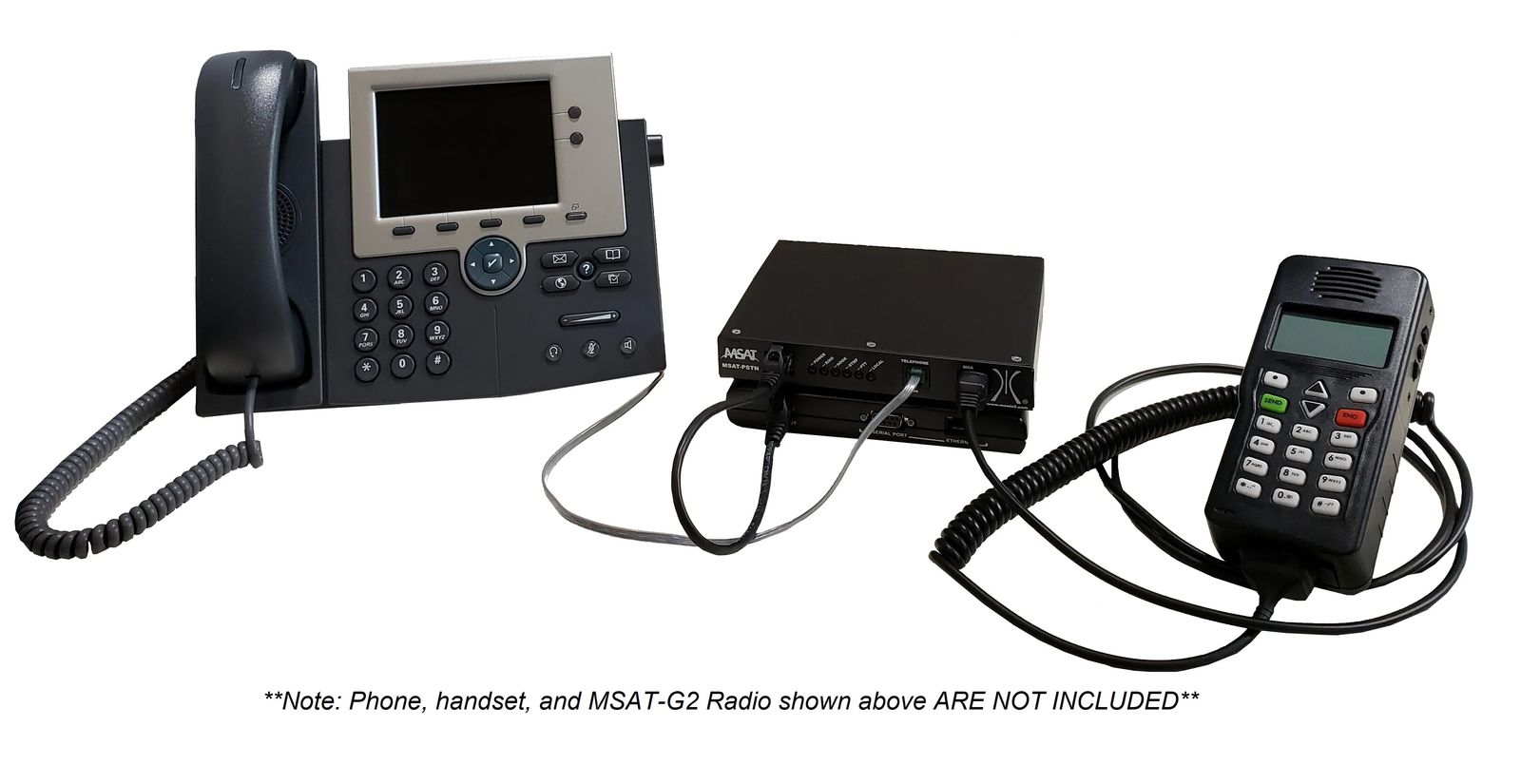 MSAT-G2 PSTN TELEPHONE INTERFACE
The MSAT-PSTN Interface enables MSAT-G2 radio operators to access MSAT voice and PTT service functions via an analog telephone. When using a cordless analog phone, the interface extends satellite phone coverage throughout buildings. The device also facilitates integration of the MSAT-G2 radio into a Private Branch Exchange (PBX) system. Now organizations can easily incorporate MSAT services into their office telephone networks, ensuring reliable back-up capability when it is needed the most.
Features
Analog telephone connection (RJ-11)
Access to PTT functions via analog phone (PTT, talkgroup toggling etc.) PTT supported by pressing either a '*' to PTT the radio or a '#' to return back to receive mode.
Differential Ringing - Different ring tones identify different call types (Telephone or PTT)
Answers in a specific number of rings and allows the user to command the radio from phone line.
Bright LED display on front of the MSAT-PSTN aids in initial setup and provides real time feedback during operation.
Power is provided by the MSAT-G2 on the radio end and +12V power is required on the handset end (power module included).
Connect MSAT-G2 into a PBX for more flexible usage.
The user can also change user talk groups from the phone DTMF pad.
Two models are available, either Foreign Exchange Office (FXO) or Commander model.


Orders Include:
MSAT-PSTN Module
1' Network Cable (to link PSTN to MSAT-G2 Radio
MSAT-PSTN Bracket & 5 Bracket Screws
MSAT-PSTN Manual
In FXO mode, the MSAT-PSTN provides the user with all the standard handset features the MSAT-G2 provides.
To initiate a call, enter desired phone number and press the '*' (star) button. When call is complete, user either hangs up the phone or presses the '#' (pound) digit.
When the radio goes active, it rings an analog telephone in an effort to contact the user during activity.
The MSAT-PSTN acts like an analog phone line allowing a standard analog telephone to be connected.
To use, pick up an analog telephone handset and the PSTN-FXO will provide you with dial tone, now you can command the G2
$520.00
SKU: 360-230-1001
IN STOCK